I'm a Sunday Times bestselling author and ghostwriter. I'm also a copywriter and an NCTJ accredited journalist.
I write non-fiction books, either as a ghost for others, or as myself. I also write copy and communications for a wide range of brands and businesses. My editorial features have appeared in national newspapers and magazines including the Telegraph, Guardian and Stella.
Whatever you need to say and however you want to say it, I can help. Find out more below or drop me a line.
Happy Single Mother is part memoir, part manifesto. Carving out a new life as a single mother can be tough, but you're not automatically resigned to a life of misery and you're definitely not a bad mother for going solo. Sharing my own experiences as well as those of other single mums, and incorporating opinion and research from leading experts, this book aims to prove that single motherhood can be empowering and rewarding in ways you might never have imagined.
Published by Thread (Hachette)
Inspirational interiors in ex-council homes
My first book, Style Council, brings together an eclectic selection of interiors from a generation of homeowners who have redefined the status of ex-local-authority architecture. Fifteen homes are featured, from hip Brutalist high-rises to rural cottages with roses around the door, each of them unique yet bound by an upcycling ethos, an innate sense of style and the triumph of dash over cash.
Published by Square Peg @ RandomHouse
You're So Mummy is an honest take on 21st-century motherhood that sticks two finger-puppets up at parenting manuals. It's advice-free; it won't tell you how to get your child to sleep, but will help you to find your way through the early years of motherhood with your sense of humour still intact.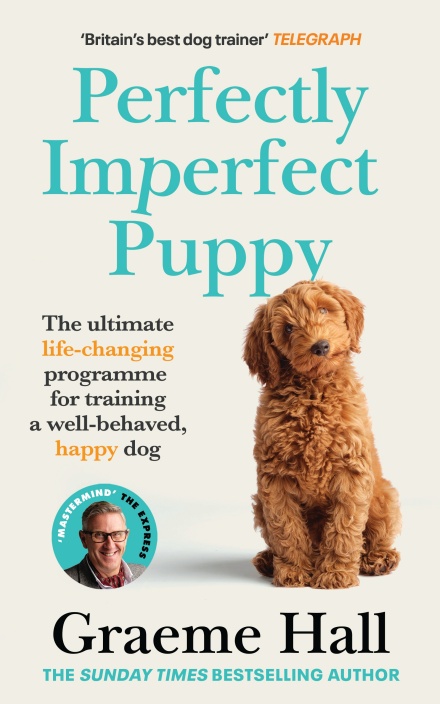 Perfectly Imperfect Puppy
I worked with the nation's favourite dog trainer, Graeme Hall (aka the Dogfather) on this guide to raising a well behaved puppy. It covers everything from choosing the right dog for you and mastering toilet training, to brushing their teeth and perfecting a roll-over. Capturing Graeme's distinct Yorkshireman's tone and sense of humour was all part of the fun!
Money Mum Official:
Save Yourself Happy
I worked with super-saver and Instagram influencer Gemma Bird, aka Money Mum, on this money saving guide, published in January 2022. The book is packed with tips and advice, from making little changes to everyday habits, through building a second income, to going for the big goals in life. It was a joy to help translate Gemma's distinctive voice to the page and inject a little fun into the often dull world of saving and finances.
I ghost-wrote this mumoir by everyone's favourite Spice Girl, Emma Bunton. It charts Emma's experiences as a new mum, juggling work and life with a baby. As well as helping Emma tell her own story, I co-ordinated and edited contributions from a number of experts who also inputted to the book.
The Dark Side of the Mind
I co-wrote this best-selling professional memoir with the leading forensic psychologist Kerry Daynes. It explores the everyday realities of life as a female psychologist working with some of the UK's most disturbed criminals, and their victims. It's also a deeply personal journey through Kerry's life as she wrangles with the many conflicting emotions that come with this uniquely challenging job.
I trained as a journalist with a local newspaper, the Bridport News in Dorset, where I covered everything from court cases and business stories to pantomime reviews and record-breaking vegetables. I gained my NCTJ Level 3 Diploma in Journalism during my time with the paper.
I went freelance in 2007 and have written, mostly on themes of relationships, family and parenting, for titles including The Daily Telegraph, the Daily Mail, Prima Baby, Smallish and Stella Magazine.
Copywriting
I've been a copywriter for over twelve years, writing words with purpose for brands including the RNLI, COMO Hotels and Resorts, The Stable Pizza and Cider, One Hundred Toys and Black Deer Festival. I've written everything from websites, magazines and e-books, to menus, product copy and newsletters.
Increasingly, I am asked to act as an editorial consultant, advising small businesses on their communications, brand identity and tone of voice. I have built up a network of brilliant designers, photographers, filmmakers and printers to call upon when their talents are required.
If you have a communications project you'd like some help with, get in touch.
PR
I collaborate on PR projects with the award-winning publicist Heloise D'Souza of D'Souza PR. Together we've created impactful, successful national PR campaigns for brands including Hippychick, The Stable, The Samaritans and the Devon County Show.
For books please contact my agent, Rowan Lawton at the Soho Agency.
t: 020 7471 7900
a: The Soho Agency, 2nd Floor, 16-17 Wardour Mews,London, W1F 8AT
For copywriting please email me directly at sarah@sarahgthompson.com or call on 07815 306 295.